From the encyclic - dall'enciclica "Fides et Ratio" , 14-9-1998
by THE HOLY FATHER JOHN PAUL II
del SANTO PADRE GIOVANNI PAOLO II
1920-2005
---
---
---
VI CONSIGLIAMO DI VISITARE IL SITO
www.libreriadelsanto.it
---
THE ANSWERS TO YOUR QUESTIONS

LE RISPOSTE ALLE VOSTRE DOMANDE
LA FISICA DEI FENOMENI ELETTROMAGNETICI RARI
LA FISICA CHE SALVA LA VITA
PHYSICS SAVES OUR LIFE
SOFTWARE ED APPUNTI DI ELETTRONICA PER STUDENTI I.T.I.S.
INDIRIZZO ELETTRONICA-TELECOMUNICAZIONI
"DALL'INFINITAMENTE PICCOLO ALL' INFINITAMENTE GRANDE" SLIDES - LUTE MILAZZO
GIANNI E GIULIA INNAMORATI SPECIALI
BREVETTO DI ANTONINO CUCINOTTA PER DISPLAY A MATRICE DI LED (12-6-1978)
---
ESPERIMENTO CON IL ROCCHETTO DI RUHMKORFF
---
ESPERIMENTO CON LA BOBINA DI TESLA ALIMENTATA CON IL ROCCHETTO DI RUHMKORFF
---
---
---
---
Webmaster & Author: Antonino Cucinotta

Graduate in Physics

Copyright 2002-2007- All rights reserved
Webmaster ed Autore: Prof. Antonino Cucinotta

Dottore in Fisica

Copyright 2002-2007 - Tutti i diritti riservati
---
---
RIPRODUZIONE IN SCALA RIDOTTA (1:20 PER QUANTO CONCERNE LA POTENZA ED 1:10 PER QUANTO CONCERNE LA DISTANZA) DELL' ESPERIMENTO DI WITRICITY "WREL" (WIRELESS RESONANT ENERGY LINK) EFFETTUATO NEL GIUGNO 2007 PRESSO IL MASSACHUSETTS INSTITUTE OF TECHNOLOGY DI BOSTON (MIT) DAL GRUPPO DI RICERCA GUIDATO DAL PROF. MARIN SOLJACIC E REPLICATO NEL SETTEMBRE 2008 DA JUSTIN RUTTNER, CAPO DEL DIPARTIMENTO RICERCA E SVILUPPO DI INTEL CORPORATION, PRESSO L'INTEL DEVELOPER FORUM DI SAN FRANCISCO.

L' ESPERIMENTO E' STATO RIPRODOTTO, A SCOPO DIDATTICO, DAL PROF. ANTONINO CUCINOTTA, GIA' DIRETTORE DEL LABORATORIO DI ELETTRONICA DELL' ITI "VERONA TRENTO" DI MESSINA, GIA' DOCENTE DI SISTEMI E TELECOMUNICAZIONI PRESSO L' ITTS "ETTORE MAJORANA" DI MILAZZO
CLICCARE QUI PER VEDERE IL FILMATO
---
---
INVISIBILIA MUNDI
Energia oscura come oceano di coppie
di particelle ed antiparticelle virtuali,
che nascono e muoiono ad ogni istante
nel vuoto cosmico dal momento del big bang,
dilatando all'infinito lo spazio-tempo.
Forze gluoniche immani che imprigionano
ed occultano infinite terne di quark
nei protoni e neutroni del nostro corpo
e dell'universo visibile.
Materia oscura ignota che frena l'espansione
dello spazio-tempo, gareggiando con l'energia oscura
per impedire il buio cosmico finale.
Chi vincera' ?
L' energia oscura
portando l'universo verso lo zero assoluto ?
La materia oscura
portando l'universo verso l'implosione finale ?
Solo Dio lo sa !
Solo Dio che ha fatto il mondo come emanazione del Suo infinito Amore
conosce la quintessenza del suo divenire.
Dio non ha bisogno di equazioni e modelli matematici !
Ha impresso la Sua imperscrutabile Logica nella struttura dello spazio-tempo.
Agli uomini, di scienza e non, davanti ai misteri della natura
rimane soltanto qualche timida, umile ipotesi !


Dark energy is an ocean of virtual pairs of particles and antiparticles
that are borning and dyeing at all times in the eternal cycle of the becoming,
expanding endlessly the space-time.
Huge gluon forces confine and hide innumerable terns of quarks
in our bodies and in the proton and neutron sea of the visible universe.
Unknown dark matter slows down the space-time dilation,
competing against dark energy to prevent the final cosmic cold.
Will dark energy win, making the universe go toward the absolute zero?
Will dark matter win, making the universe go toward the final implosion?
Only God knows it!
Only God Who created the world as emanation of His endless Love
knows the quintessence of its becoming.
God doesn't need equations and mathematical models !
He wrote His inscrutable Logic in the space-time structure.
Men, of science and not, in front of the mysteries of the nature
can only advance some timid, humble hypothesis!

By Webmaster
22 - 1 - 2005
---
---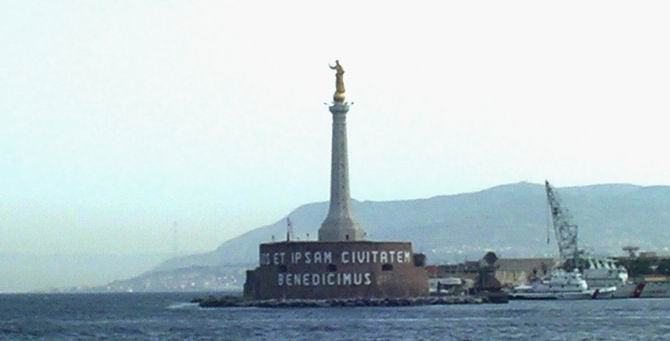 MESSINA: LA MADONNA DELLA LETTERA
Le luci della statua furono accese per la prima volta dal Sommo Pontefice Pio XI nel 1934, mediante un radiocomando realizzato da Guglielmo Marconi
MESSINA: THE MADONNA OF THE LETTER
The lights of the statue were switched on for the first time by the Sovereign Pontiff Pius XI in 1934 using a radiocontrol made by Guglielmo Marconi
---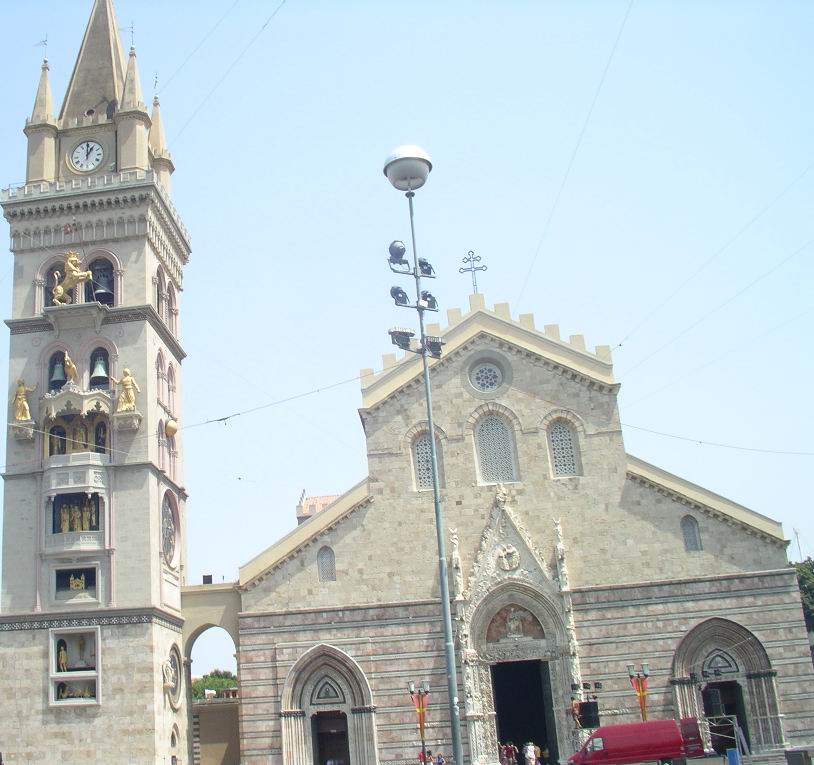 MESSINA:THE CATHEDRAL AND THE AUTOMATA OF THE BELL TOWER
MESSINA: LA CATTEDRALE E GLI AUTOMI DEL CAMPANILE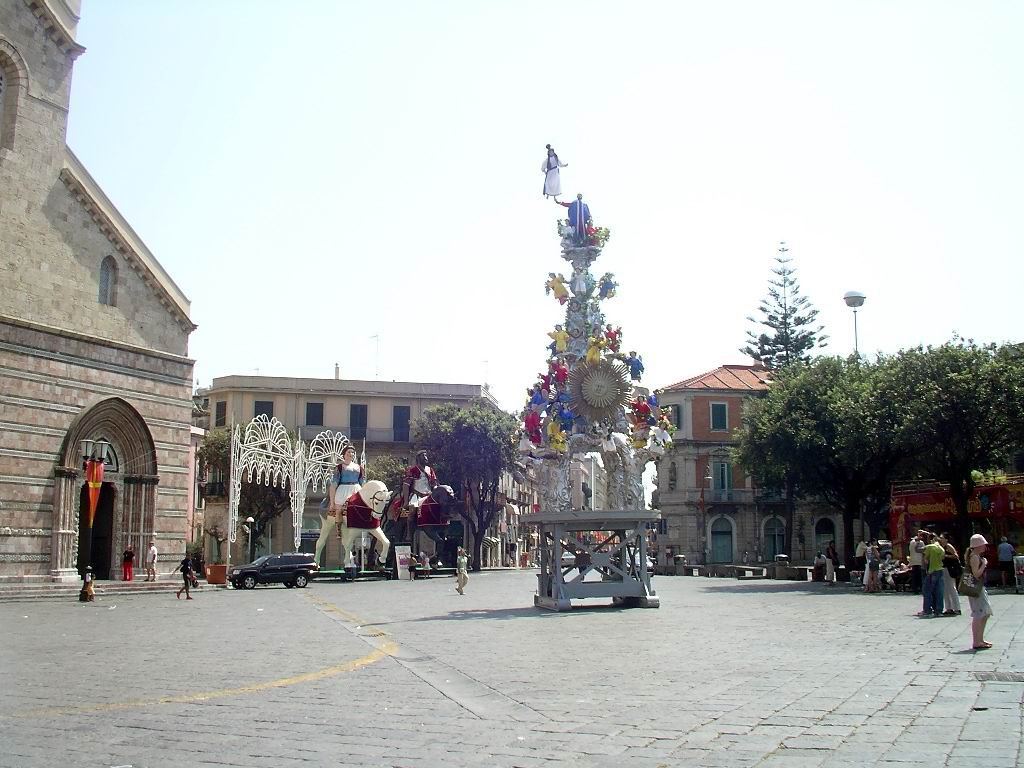 MESSINA:THE "VARA", THE VOTIVE MACHINE DRAGGED IN BY THE FAITHFUL IN THE DAY OF THE ASSUNTA' FEAST (THE FIFTEENTH OF AUGUST)
MESSINA: LA "VARA", LA MACCHINA VOTIVA TRASCINATA DAI FEDELI NEL GIORNO DELLA FESTA DELL'ASSUNTA
(15 AGOSTO)
---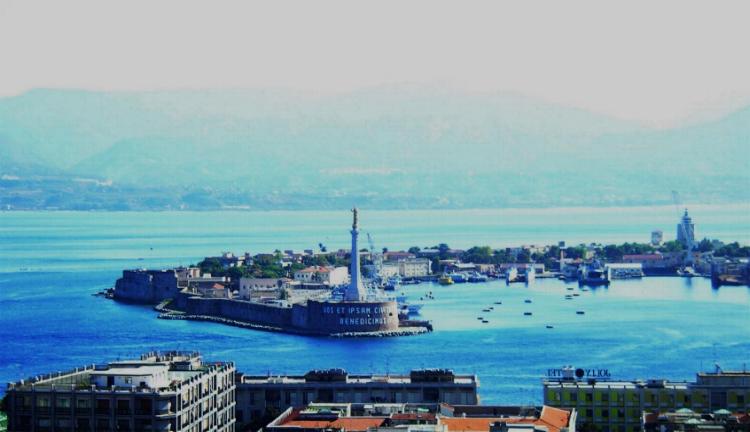 MESSINA: IL PORTO
L'antica Zancle, nome che deriva dal porto a forma di falce,zagclon in greco antico,
fu fondata nel 730 a.C. dai coloni greci Periere e Cratemene
MESSINA: THE HARBOUR
The ancient town was founded as Zancle in 730 b.C. by the greek colonists Periere and Cratemene
(the name "Zancle" derives from the greek zagclon ,that means scythe ,for the scythe-shaped harbour)
---
---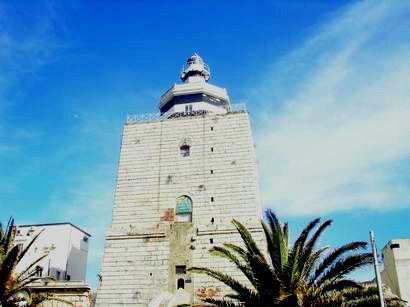 MESSINA: LA LANTERNA DEL MONTORSOLI
Realizzata da Giovanni Angelo Montorsoli, allievo di Michelangelo
MESSINA: MONTORSOLI'S LIGHTHOUSE
It was built by Giovanni Angelo Montorsoli, a disciple of Michelangelo
---
---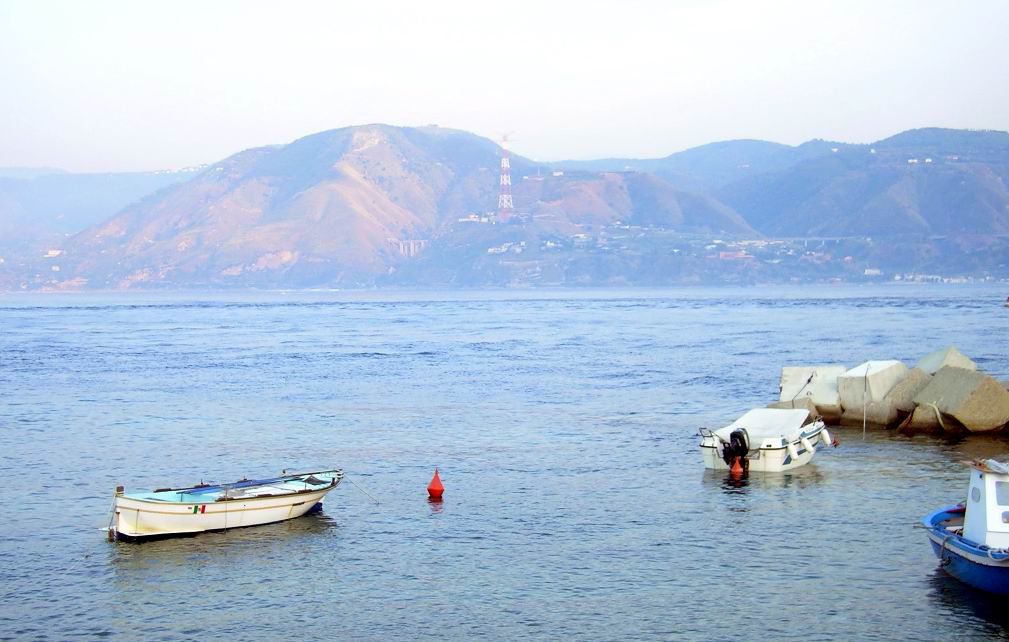 STRETTO DI MESSINA
La costa calabra vista dalla spiaggia di Torre Faro
THE STRAIT OF MESSINA
The calabrian coast seen from Torre Faro beach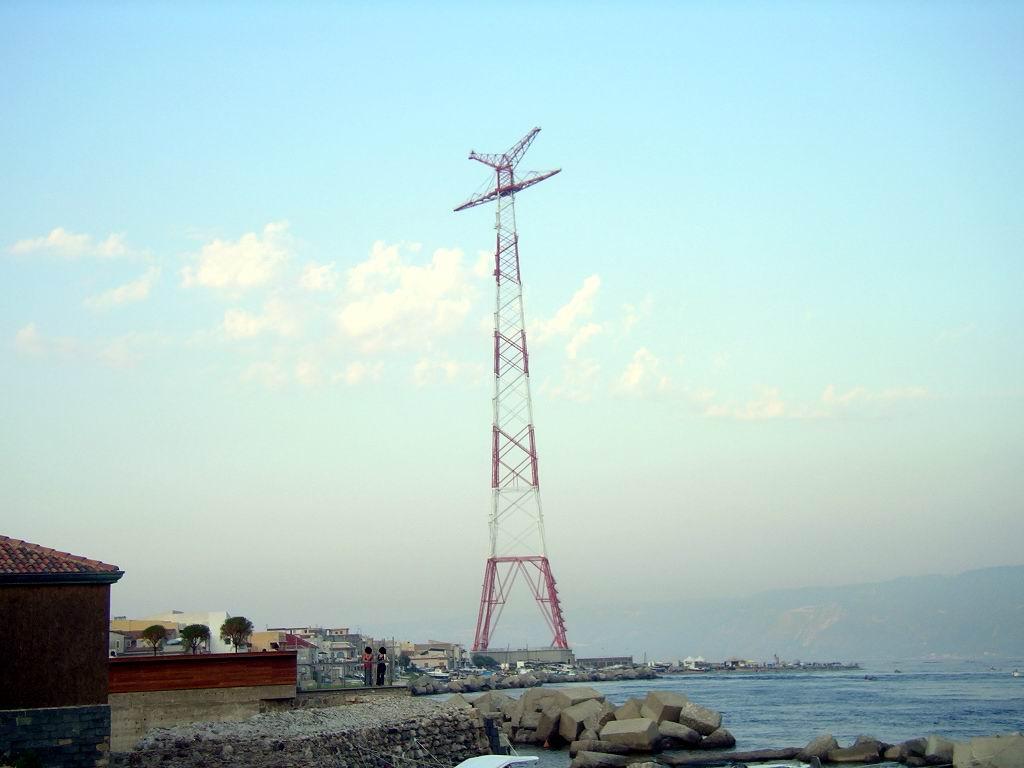 STRETTO DI MESSINA
Il pilone di Capo Peloro (224 m) (vecchio elettrodotto siculo-calabro dismesso)
THE STRAIT OF MESSINA
The pylon of Cape Peloro (224 m) (of the old disassembled power line from Sicily to Calabria)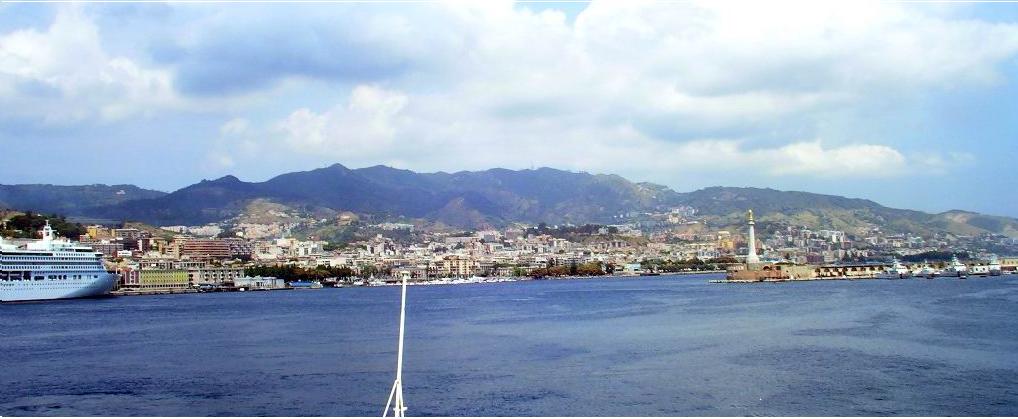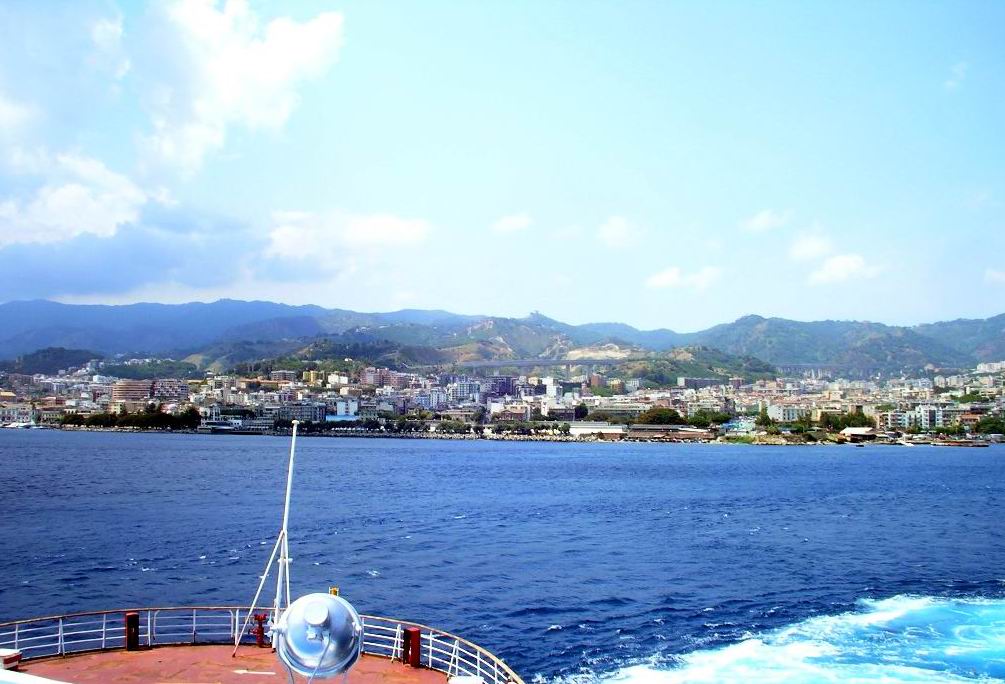 Messina vista dalla nave traghetto
Messina seen from the ferry boat

Messina (Ganzirri): Il lago piccolo
Messina (Ganzirri): The smaller lake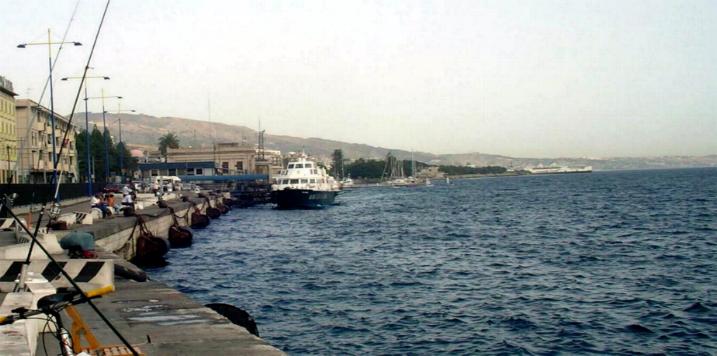 MESSINA: TERMINAL ALISCAFI
Il primo aliscafo fu varato nei cantieri Rodriguez di Messina nel 1956
MESSINA: THE TERMINAL FOR HYDROFOILS
The first hydrofoil in the world was launched in the Rodriguez Shipyards of Messina in 1956