---

THE ANSWERS TO YOUR QUESTIONS
LE RISPOSTE ALLE VOSTRE DOMANDE
19
---
---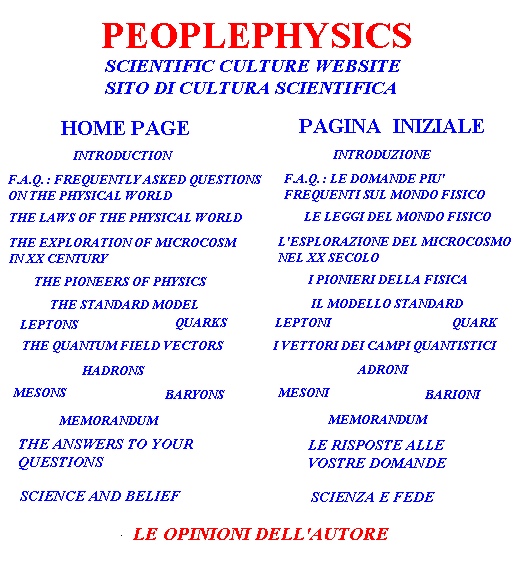 Vi consigliamo di visitare questi siti/We recommend to you to visit these websites:
https://www.culturacattolica.it/

---
Webmaster & Author: Antonino Cucinotta

Graduate in Physics
Electronics and Telecommunications Teacher
at the Industrial Technical High School "Verona Trento"
of Messina (Sicily), Italy
Copyright 2002 - All rights reserved
Webmaster ed Autore: Prof. Antonino Cucinotta

Dottore in Fisica
Docente di Elettronica e Telecomunicazioni
presso l'Istituto Tecnico Industriale"Verona Trento" di Messina
Copyright 2002 - Tutti i diritti riservati
---
ATTENZIONE
DISCLAIMER
DECLINAZIONE DI RESPONSABILITA' PER LE RISPOSTE FORNITE GRATUITAMENTE AI VISITATORI DI QUESTO SITO
L'autore di questo sito fa presente che le risposte gratuite pubblicate nella sezione "Le risposte alle vostre domande" vengono fornite a titolo esclusivamente culturale e di divulgazione scientifica.
Declina pertanto qualsiasi responsabilitÓ per danni di qualsiasi tipo, in particolare danni economici o di immagine, che gli utenti possano subire in conseguenza dell'utilizzazione dei contenuti delle predette risposte a scopo di consulenza professionale o di produzione industriale, o per qualsiasi altro scopo diverso da quelli sopraindicati.
ATTENTION
DISCLAIMER FOR THE FREE ANSWERS TO THE QUESTIONS ASKED BY THE VISITORS OF THIS WEBSITE
The Author of this website disclaims any responsibility for the contents of the free answers published in the section "The answers to Your questions", pointing out that the answers are furnished with the only purposes of education and scientific popularization.
Therefore the Author disclaims any responsibility for damages of any kind, in particular economic or image losses, that visitors might suffer as a consequence of using the contents of the aforesaid answers for purposes of professional advice or of industrial manufacturing, or for any purposes different from the above-mentioned ones.
EXPLICATION NOTE CONCERNING FORMULAE
NOTA ESPLICATIVA RIGUARDANTE LE FORMULE
FOR THE WEBMASTER IT IS MUCH EASIER TO WRITE FORMULAE ALONG THE SAME LINE, USING SLASHES IN PLACE OF FRACTION LINES FOR EXPRESSING RATIOS BETWEEN SYMBOLS OF PHYSICAL QUANTITIES,ACCORDING TO THE FOLLOWING EXAMPLES:
AB/(CD) IS THE RATIO BETWEEN THE PRODUCT OF A BY B AND THE PRODUCT OF C BY D;
df(x)/dx IS THE DERIVATIVE OF THE FUNCTION f(x);
M = R2P/(Gm) =

R2P
= ---------
(Gm).

PER L'AUTORE DEL SITO E' MOLTO PIU' FACILE SCRIVERE LE FORMULE IN LINEA USANDO IL SIMBOLO / AL POSTO DELLA LINEA ORIZZONTALE PER ESPRIMERE RAPPORTI TRA SIMBOLI DI GRANDEZZE FISICHE.
ESEMPI:
AB/(CD) INDICA IL RAPPORTO TRA I PRODOTTI AB E CD;
df(x)/dx INDICA LA DERIVATA DELLA FUNZIONE f(x);
M = R2P/(Gm) =

R2P
= ---------
(Gm).



---
INDICE DOMANDE
18bis
AAAAAAAAAAAAAAAAAAAAAAAAAAAAAAAAAAAAAAAAAAAAAAAAAAAAAA AAAAAAAAAAAAAAAAAAAAAAAAAAAAAAAAAAAAAAAAAAAAAAAAAAAAAA